New pack of free mystery games are coming to Epic Games Store in December 2020 and all gamers are overexcited about that. Here we will share with you some information about the upcoming mystery games that we know. But please note, that we don't have any proven data, all the information here is based on rumours.
Epic Games Store Free Mystery Games – May 2021 Sale
So firstly, we want to remind you that starting December 17, there'll be giving away a new game each day for two weeks straight – that's right, it's 15 Days of Free Games! Each game will be free to claim for just 24 hours, but they're yours to keep forever. More details are here.
The Actual list of Games
December 17 – Cities: Skylines
December 18 – Oddworld: New 'n' Tasty
December 19 – The Long Dark
December 20 – Defense Grid: The Awakening
December 21 – Alien: Isolation
December 22 – Metro: 2033 Redux
December 23 – Tropico 5
December 24 – Inside
December 25 – Darkest Dungeon
December 26 – My Time at Portia
By the way, we have a lot of Guides about it, you can find everything about My time at Portia here.
December 27 – Night in the Woods
December 28 – Stranded Deep
December 29 – Solitairica
December 30 – Torchlight II
You can find some good Torchlight 2 builds here.
December 31 – Jurassic World Evolution – Get Free Now
In addition, you will get Epic Bonus, which you can spend on buying games. You will receive $10 that you can use to buy games that cost from $15.
What is the next Epic Games Store Mystery Game?
The latest tendency shows that the picture with the Epic Games store mystery games leaks below is the one that real. Besides the next hint from Epic Games seems to point to the next game from the list below as well. So we hope this is the real Epic Mystery Games leak.
Players always want to know more the next Mystery Game appears tomorrow and you will see it yourself. But Epic Games Store gives us little hints. Look attentively to the banner that announces the next game.
Mystery Games Sales has ended!
Below you can see overhyped rumours and speculations. There are no confirmed Epic mystery games leaks or something.
Predictions and Rumours
Previous mystery games list that Epic Games Store had in Spring 2020 was great. Players had a chance to get such great games as GTA V, Sid Mayer's Civilization VI, Borderlands 2 and Ark Survival Evolved. We have written more about it here. All of it makes us think that there will be a lot of AAA games titles among new Epic Games Store Free Mystery Games list again. Therefore it brings a lot of speculations around this topic. We decided to analyze some of them and share with you the most interesting and likely ones to happen.
Below is the first picture that turned out to be FAKE! But if you want to know the details of all previous theories you can read on.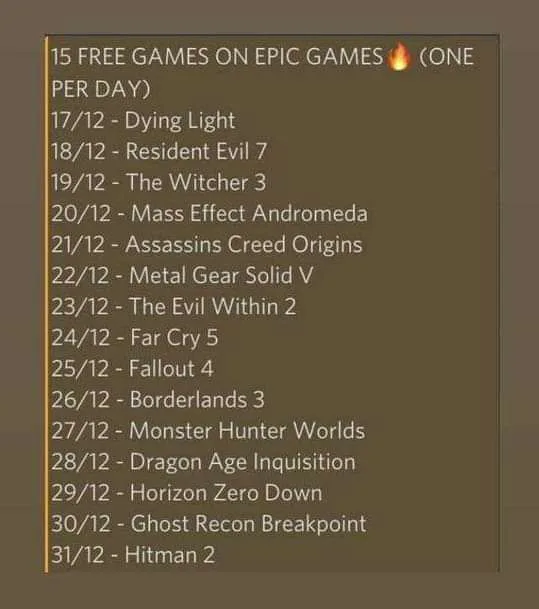 This is the main speculation on all gaming social platforms. First of all, yes it is not proved or confirmed by any means. but it would be great to see at list some of these games on Epic Store Giveaway list.
Other opinions on this topic are the following.
There is also one other source of leaks that seems to be quite possible as well. It is taken from a Korean data mining site.
Everything can change though, but we believe that some games that Epic Games Store are going to share with players are going to be awesome.
Other players are more pessimistic and believe that accordingly to the last year December sale and giveaway Epic Store will not share AAA games but some good indie games instead. The list of Epic Games Store December Sale event 2019 was:
December 19 – Into the Breach
December 20 – Towerfall Ascension
December 21 – Superhot
December 22 – Little Inferno
December 23 – Ape Out
December 24 – Celeste
December 25 – Totally Accurate Battle Simulator (TABS)
December 26 – Faster Than Light
December 27 – Hyper Light Drifter
December 28 – Shadow Tactics
December 29 – The Talos Principle
December 30 – Hello Neighbor
As you can see there are a lot of good but not great games. So some gamers recommend to slow down expectations a bit.
We on our hand are going to monitor the situation and share with you the actual Mystery Games from Epic Games Store December Sale 2020 in the beginning of the article as we get to know about them.