Kujou Sara is a playable Electro character in Genshin Impact. We decided to write this guide to help you learn more about Sara. In our Genshin Impact Sara Build and Best Team Comp post you will learn about Sara's talents, how they work and how to upgrade them. Also, you will read about her Constellations that will help you make Sara even more powerful. After that, we have written Genshin Impact Sara Build where you'll see weapon and artifact set. And at last, we have mentioned the best team comps for Sara as the Sub DPS hero.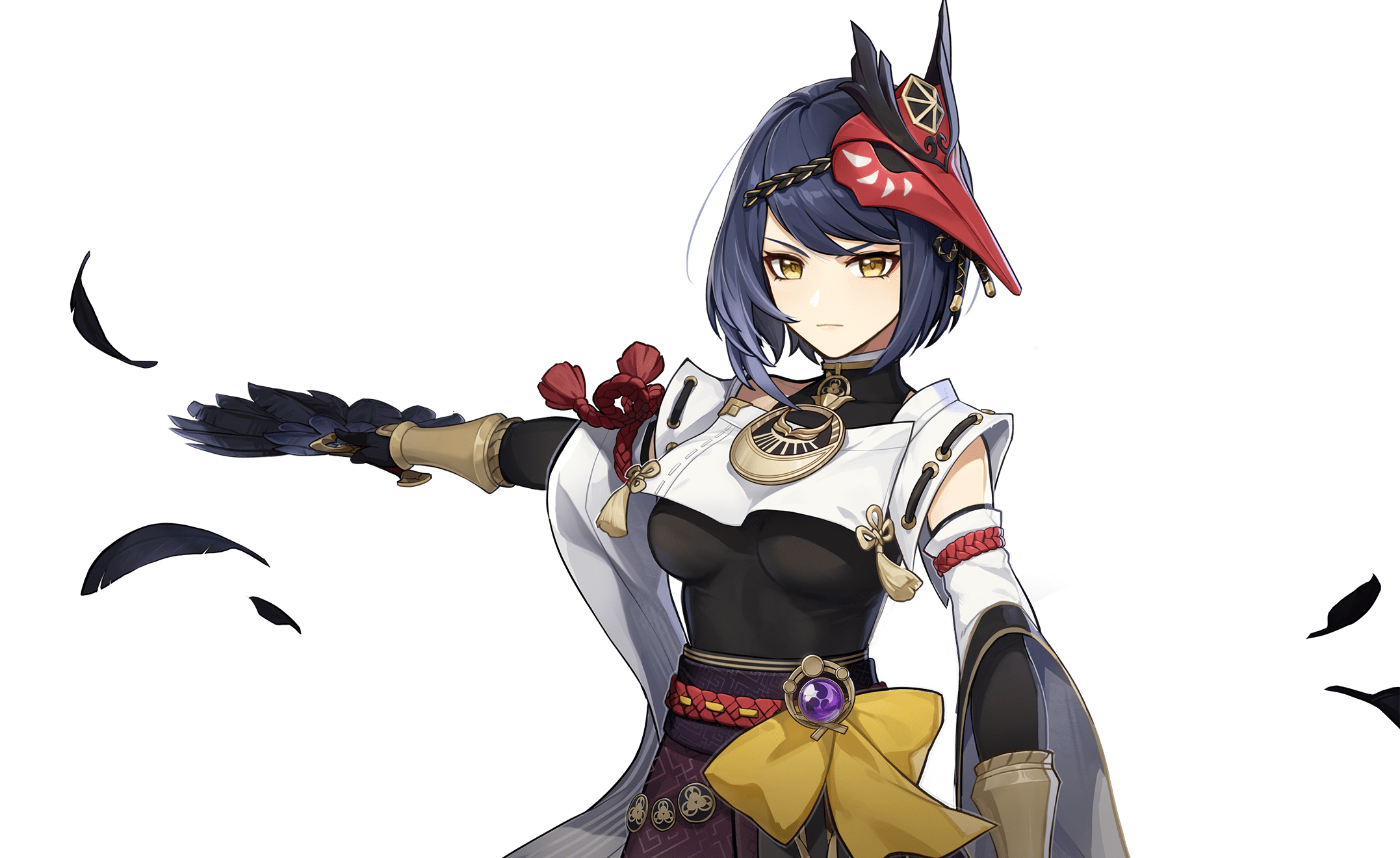 The whole information is presented in tables. You can use the navigation bar above to move quickly to the information block that you are most interested in.
Genshin Impact All Characters List
Sara Talents
Below you can see the list of talents that Sara uses during the fight. Each of them we have described with the main characteristics.
Normal Attack: Perform up to 5 consecutive shots with a bow.
Charged Attack: Perform a more precise Aimed Shot with increased DMG. While aiming, crackling lightning will accumulate on the arrowhead. An arrow fully charged with the storm's might will deal Electro DMG. When in the Crowfeather Cover state, a fully-charged arrow will leave a Crowfeather behind after it hits.
Plunging Attack: Fires off a shower of arrows in mid-air before falling and striking the ground, dealing AoE DMG upon impact.

Retreats rapidly with the speed of a tengu, summoning the protection of the Crowfeather. Gains Crowfeather Cover for 18s, and when Kujou Sara fires a fully-charged Aimed Shot, Crowfeather Cover will be consumed, and will leave a Crowfeather at the target location. Crowfeathers will trigger Tengu Juurai: Ambush after a short time, dealing Electro DMG and granting the active character within its AoE an ATK Bonus based on Kujou Sara's Base ATK. The ATK Bonuses from different Tengu Juurai will not stack, and their effects and duration will be determined by the last Tengu Juurai to take effect.

Subjugation: Koukou Sendou

Casts down Tengu Juurai: Titanbreaker, dealing AoE Electro DMG. Afterwards, Tengu Juurai: Titanbreaker spreads out into 4 consecutive bouts of Tengu Juurai: Stormcluster, dealing AoE Electro DMG. Tengu Juurai: Titanbreaker and Tengu Juurai: Stormcluster can provide the active character within their AoE with the same ATK Bonus as given by the Elemental Skill, Tengu Stormcall. The ATK Bonus provided by various kinds of Tengu Juurai will not stack, and their effects and duration will be determined by the last Tengu Juurai to take effect.

While in the Crowfeather Cover state provided by Tengu Stormcall, Aimed Shot charge times are decreased by 60%.

When Tengu Juurai: Ambush hits opponents, Kujou Sara will restore 1.2 Energy to all party members for every 100% Energy Recharge she has. This effect can be triggered once every 3s.

When dispatched on an expedition in Inazuma, time consumed is reduced by 25%.
Sara Talent GIFs
Every talent can be upgraded up to level 15. But to do so you will need to gather materials on particular days. The list of the needed materials for leveling Sara's talents is mentioned in the next block.
Talent Leveling Materials
So here you can see all materials that you will need in order to level up Sara's talents.
Some of them are required at the beginning for low levels and others are more advanced. We just wanted to focus your attention on material types in general.
Sara Constellations
When Tengu Juurai grant characters ATK Bonuses or hits opponents, the CD of Tengu Stormcall is decreased by 1s.
This effect can be triggered once every 3s.

Unleashing Tengu Stormcall will leave a weaker Crowfeather at Kujou Sara's original position that will deal 30% of its original DMG.

Increases the Level of Subjugation: Koukou Sendou by 3.
Maximum upgrade level is 15.

The number of Tengu Juurai: Stormcluster released by Subjugation: Koukou Sendou is increased to 6.

Increases the Level of Tengu Stormcall by 3.
Maximum upgrade level is 15.

The Electro DMG of characters who have had their ATK increased by Tengu Juurai has its Crit DMG increased by 60%.
In Genshin Impact characters have a specific upgrade system called constellation. You will need to get a specific item called Stella Fortuna to increase the level of constellation. Each character has their own version of Stella Fortuna, which you get by obtaining a duplicate of the character from Wishes.
Every Genshin Impact character has own set of constellations above you can see Sara constellations list with descriptions.
Ascension Materials
In addition, there are ascension phases that increase the level cap for your character. After Sara reaches the 20th level she can be ascended to the next ascension phase, up to phase 6, which allow getting 90th level.
Character Ascension
Material

Vajrada Amethyst Fragment

Vajrada Amethyst Fragment

Vajrada Amethyst Gemstone
In order to level up ascension phases you'll need materials. So the list of those required for Sara is listed above.
Sara Build
Below you can see the best weapon option for playing Sara in Genshin Impact. Accompanied by the best Sara artifact set and its stat priorities.
Sub DPS Build
If you play this champion as a Sub DPS in your comp you should take the weapon and artifacts from the list below. They are believed to be the most effective ones in almost all situations.
Increases Normal Attack and Charged Attack DMG by 12%. After a Normal or Charged Attack is fired, DMG dealt increases by a further 8% every 0.1 seconds the arrow is in the air for up to 5 times.

2-Piece Bonus: Electro DMG Bonus +15%


2-Piece Bonus: Elemental Burst DMG +20%


Artifact Main Stats Priority


Tengu Stormcall >>> Subjugation: Koukou Sendou >>> Tengu Bowmanship

Weapon Substitutes: Elegy for the End, Skyward Harp, Favonius Warbow, Sacrificial Bow, The Stringless.
At the very bottom, you can see talent priority for Sara. You should focus on Tengu Stormcall, after that Subjugation: Koukou Sendou and in the end on Tengu Bowmanship.
Best Team Compositions for Sara
When you play Genshin Impact everything depends not only on your main character but also on the composition. You should learn how elements complement each other and build the best team for your main. Below you can see the best team composition for Sara with Main and Sub DPS characters and Support. Also, we have included alternative characters for each role that go well with Sara too.
Kujou Sara is one of the most useful supports in the game due to her Elemental skill that buffs the team and recovers the energy of all teammates. The best main DPS who is going to take the most advantage of Sara's ability is Tartaglia. with his Hydro element and Fischl electro they will do a lot of Electro charged damage. We recommend using only Hydro and Electro combos for Sara as it uncovers the full potential of electro-charged reaction. Besides, it will provide the team with two Elemental Resonance. So sXingqiu is one of the best options due to her healing powers.
Good characters for this comp: Ganyu, Raiden, Beidou, Kaeya, Barbara, Diona, Jean.
Team Characters Information
Below you can see the characters from the best Sara team comp. So you can learn more about other champions too.
| | | | |
| --- | --- | --- | --- |
| | | | |
| | | | After using an Elemental Skill, increases Normal Attack and Charged Attack DMG by 30% for 15s. |
| | | | Increases damage caused by Overloaded, Electro-Charged and Superconduct by 40%. Triggering such effects decreases Elemental Skill CD by 1s. Can only occur once every 0.8s. |
| | | | Using an Elemental Burst increases all party members' ATK by 20% for 12s. This effect cannot stack. |
As you can see each of them has recommended weapon and artifact set as well. So if you want to become really powerful in Genshin Impact you should upgrade all your composition team members.
If you are still not sure what champion you want to pick as main we have Genshin Impact characters tier list with explanations on how to build your best team.