Xiao is a playable Anemo character in Genshin Impact. He is one of the most powerful and thus popular champions. We decided to write this guide to help you learn more about Xiao. In our Genshin Impact Xiao Build and Best Team Comp post you will learn about Xiao's talents, how they work and how to upgrade them. Also, you will read about his Constellations that will help you make Xiao even more powerful. After that, we have written Genshin Impact Xiao Build where you'll see weapon and artifact set. And at last, we have mentioned the best team comps for Xiao as the main DPS hero.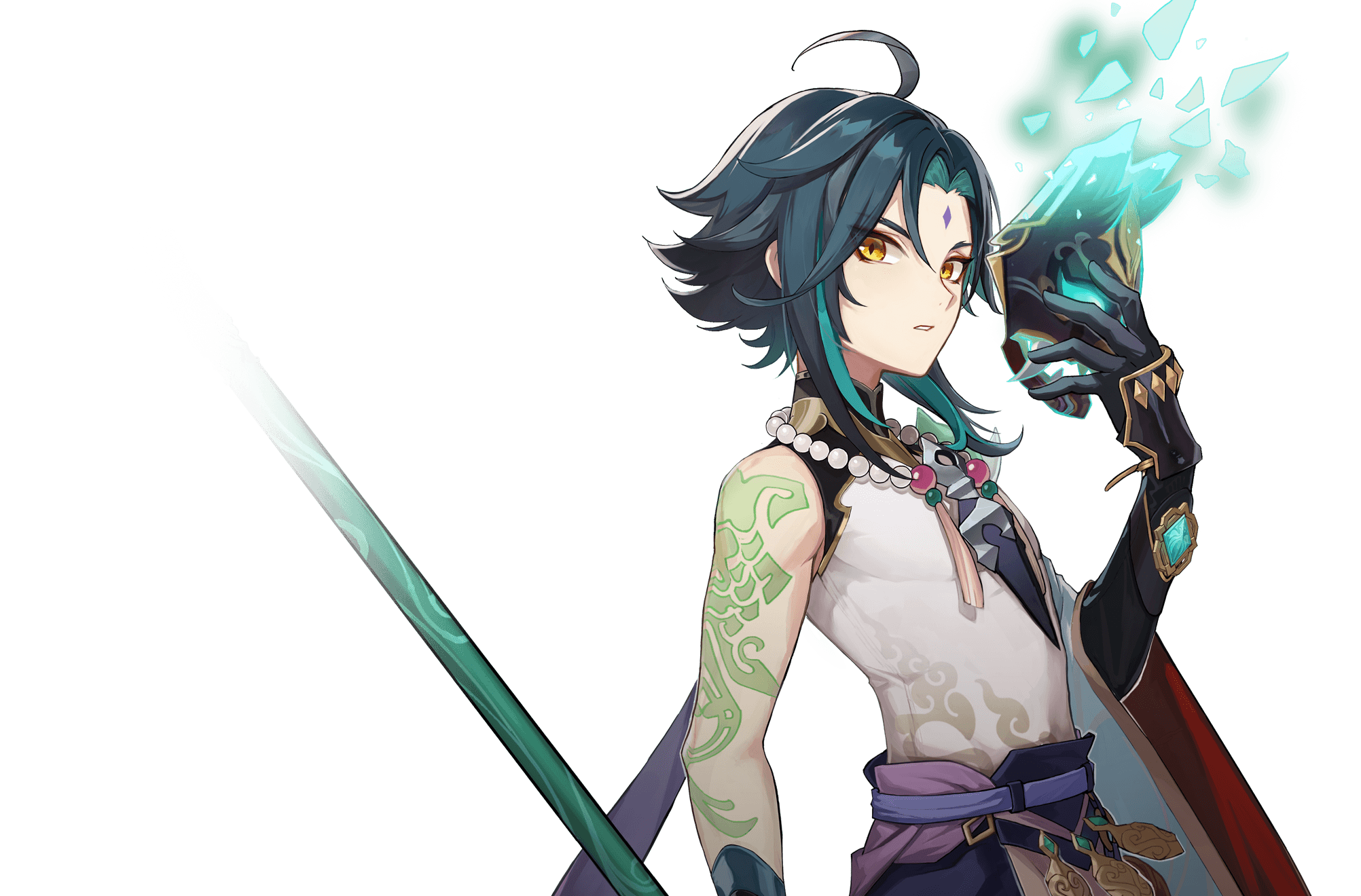 The whole information is presented in tables. You can use the navigation bar above to move quickly to the information block that you are most interested in.
Genshin Impact All Characters List
Xiao Talents
Below you can see the list of talents that Xiao uses during the fight. Each of them we have described with the main characteristics.
Normal Attack: Performs up to 6 consecutive spear strikes.
Charged Attack: Consumes a certain amount of Stamina to perform an upward thrust.
Plunging Attack: Plunges from mid-air to strike the ground from below, damaging opponents along the path and dealing AoE DMG upon impact. Xiao does not take DMG from performing Plunging Attacks.


Xiao lunges forward, dealing Anemo DMG to opponents in his path.

Can be used in mid-air.
Starts with 2 charges.

Xiao dons the Yaksha Mask that set gods and demons trembling millennia ago.

Yaksha's Mask:

Greatly increases Xiao's jumping ability. Increases his attack AoE and attack DMG. Converts attack DMG into Anemo DMG, which cannot be overridden by any other elemental infusion. In this state, Xiao will continuously lose HP. The effects of this skill end when Xiao leaves the field.

Conqueror of Evil: Tamer of Demons

While under the effects of Bane of All Evil, all DMG dealt by Xiao increases by 5%. DMG increases by a further 5% for every 3s the ability persists. The maximum DMG Bonus is 25%.

Dissolution Eon: Heaven Fall

Using Lemniscatic Wind Cycling increases the DMG of subsequent uses of Lemniscatic Wind Cycling by 15%. This effect lasts for 7s, and has a maximum of 3 stacks. Gaining a new stack refreshes the effect's duration.

Transcension: Gravity Defier

Decreases climbing Stamina consumption for your own party members by 20%.
Not stackable with Passive Talents that provide the exact same effects.
Xiao Talent GIFs
Every talent can be upgraded up to level 15. But to do so you will need to gather materials on particular days. The list on the needed materials for leveling Xiao's talents is mentioned in the next block.
Talent Leveling Materials
So here you can see all materials that you will need in order to level up Xiao's talents.
Some of them are required at the beginning for low levels and others are more advanced. We just wanted to s focus your attention on materials types in general.
Xiao Constellations
In Genshin Impact characters have a specific upgrade system called a constellation. You will need to get a specific item called Stella Fortuna to increase the level of constellation. Each character has their own version of Stella Fortuna, which you get by obtaining a duplicate of the character from Wishes.
Dissolution Eon: Destroyer of Worlds

Increases Lemniscatic Wind Cycling's charges by 1.

Annihilation Eon: Blossom of Kaleidos

When in the party and not on the field, Xiao's Energy Recharge is increased by 25%.

Conqueror of Evil: Wrath Deity

Increases the Level of Lemniscatic Wind Cycling by 3.
Maximum upgrade level is 15.

Transcension: Extinction of Suffering


When Xiao's HP falls below 50%, he gains a 100% DEF Bonus.

Evolution Eon: Origin of Ignorance

Increases the Level of Bane of All Evil by 3.
Maximum upgrade level is 15.

Conqueror of Evil: Guardian Yaksha

While under the effects of Bane of All Evil, hitting at least 2 opponents with Xiao's Plunging Attack will immediately grant him 1 charge of Lemniscatic Wind Cycling, and for the next 1s, he may use Lemniscatic Wind Cycling while ignoring its CD.
Every Genshin Impact character has own set of constellations above you can see Xiao constellations list with description.
Ascension Materials
In addition, there are ascension phases that increase the level cap for your character. After Xiao reaches the 20th level he can be ascended to the next ascension phase, up to phase 6, which allow getting 90th level.
Character Ascension
Material

Vayuda Turquoise Fragment

Vayuda Turquoise Fragment

Vayuda Turquoise Gemstone
In order to level up ascension phases you'll need materials. So the list of those required for Xiao is listed above.
Xiao Build
Below you can see the best weapon option for playing Xiao in Genshin Impact. Accompanied by the best Xiao artifact set and its stat priorities.
Primordial Jade Winged-Spear

On hit, increases ATK by 3.2% for 6s. Max 7 stacks. This effect can only occur once every 0.3s. While in possession of the maximum possible stacks, DMG dealt is increased by 12%.

2-Piece Bonus: Anemo DMG Bonus +15%


Artifact Main Stats Priority


Bane of All Evil >>> Whirlwind Thrust >>> Lemniscatic Wind Cycling

Weapon Substitutes: Staff of Homa, Deathmatch, Blackcliff Pole, Prototype Starglitter, White Tassel.
At the very bottom, you can see talent priority for Xiao. You should focus on Bane of All Evil, after that Whirlwind Thrust and in the end on Lemniscatic Wind Cycling.
Best Team Compositions for Xiao
When you play Genshin Impact everything depends not only on your main character but also on the composition. You should learn how elements complement each other and build the best team for your main. Below you can see the best team composition for Xiao with two sub DPS characters and one support. Also, we have included alternative characters for each role that go well with Xiao too.
In this comp, Venti assures Elemental Resonance and gathers enemies with his ability. Zhongli's shield comes in handy in damage prevention while also giving a moving debuff and crowd control to the enemies that Venti couldn't. The main heal comes from Bennett during Burst for Xiao's HP drain. Baraba can be a good choice if you move a lot.
Good characters for this comp: Tartaglia, Qiqi, Sucrose, Diona, Fischl, Xinyan, Noelle.
Team Characters Information
Below you can see the characters from the best Xiao team comp. So you can learn more about other champions too.
| | | | |
| --- | --- | --- | --- |
| | | | |
| | | | Using an Elemental Burst increases all party members' ATK by 20% for 12s. This effect cannot stack. |
| | | | |
| | | | Using an Elemental Burst increases all party members' ATK by 20% for 12s. This effect cannot stack. |
As you can see each of them has recommended weapon and artifact set as well. So if you want to become really powerful in Genshin Impact you should upgrade all your composition team members.
If you are still not sure what champion you want to pick as main we have Genshin Impact characters tier list with explanations on how to build your best team.